Chez Dom - the French Bistro that comes to your home - available at The Knoll Country House


Chez Dom are Elsa Marie and Julian May, a French-Australian couple who recently moved to Moruya from Sydney. To further their knowledge on growing organic vegetables and giving the food we cook a very unique meaning, they work with a local market garden called Borrowed Ground Growers.

Both are experienced chefs who have worked in renowned restaurants throughout Europe and Australia. In 2019, the couple ran a small bistro in Paris called La Vierge, and had in mind to do it again once back in Sydney. Then COVID changed their plans - and perhaps for the better! We are lucky to have them here in Moruya, ready to cook for us at home!


The Menu
Chez Dom offers a surprise menu, designed according to the availability of the produce on the farms and markets. "Carte blanche" is the word for it in French, and it goes along with the idea that you trust the chefs and their creativity to cook what is best at the moment!

Upon booking, the chefs will discuss with you dietary requirements, allergies and preferences (meat, fish, vegetarian, special occasion dessert, etc) then from there they create a menu that is sure to satisfy.

Chez Dom caters for a minimum of 6 guests and maximum of 20, with two sizes of a menu:
$110 three course menu + amuse-bouche (per person)
$150 five course menu + amuse-bouche (per person)

The cuisine is authentic, inspired by French and Italian tradition, old fashioned in a good way. Produce inspired and vegetables focused, our food is hearty as well as healthy. Home made terrine, fresh pasta, sourdough bread, vegetables from the farm, beautiful fruits tarts and much more…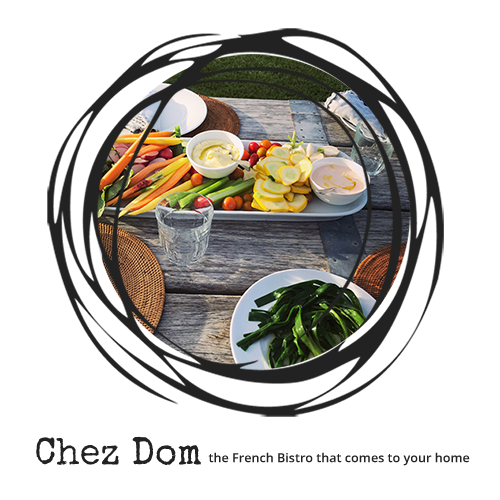 Available at The Knoll Country House
---
Please contact Julian and Elsa directly to book.
NOTE: 4 days' notice is required to cook for guests at The Knoll.
Julian: 0412413680
Elsa: 0402616041